ALLURE GRIPSTRIP - Has never been this easy to install, and has never looked this realistic!

Allure's ease of installation is due to the patented GripStrip system. This high tensile system ensures no gapping, and has allowed Allure to become WORLD's first vinyl plank that is installed as a floating floor. This avoids the need for messy glues, and unlike timber and laminate floors, there is no need for sawing or underlay just simply slice with a knife and install!
Allure GripStrip features a unique interlocking edge design for simple installation. Simply lay oevrlapping GripStrip of one plank on adjacent plank and press together...No other adhensive required
Minimal trimming involved, Just score and snap!

Product specification as follow

Install an entire floor cleanly, easily in just a few hour
The structure of the allure GripStrip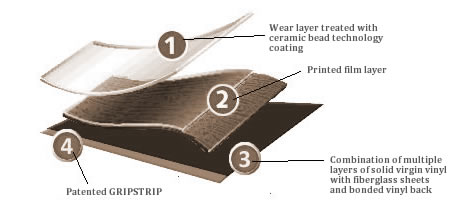 We are pleased to present you the video for allure GRIPSTRIP